Poppy-Seed Mill – M95 – and Table-Poppy-Seed Mill – TM3 –
Milling Poppy-Seeds with the M95 and TM3 Machine
A bucket or a similar vessel is placed under the milling-mechanism to catch the poppy that was filled into the funnel for being milled.
The poppy-seed mill works with two serrated rollers, that are driven with different rotational speeds, which means that the poppy seed is not ground but squeezed and easily ripped. This process guarantees not only a higher exploitation of the material but above all an airy, fluffy poppy.
The poppy-seed mull for squeezing or flaking of corn, sesame, flaxseed and similar products of the same size.
Advantages of Working With this Machine:
always freshly squeezed poppy-seed
maximal yield and very high-quality grist
high operation speed
you can adjust the milling quality with the adjustable shaft
simple handling and cleaning
clean working because of resilient strippers
The Poppy-Seed Mill is Delivered with:
stationary
mobile (with four steering- rollers, two lockable)
special design: for flaking corn
NEW Special Equipment:
Second funnel (used as cap), (height: 300 mm, additional volume: 30 l)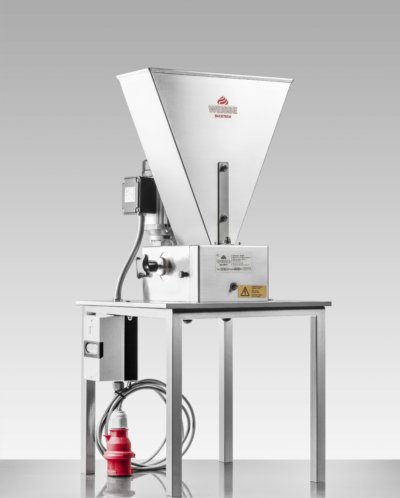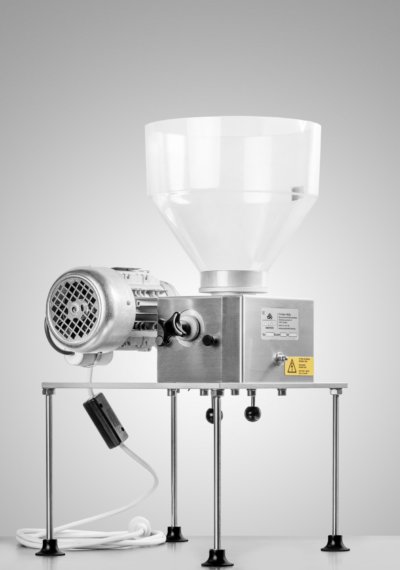 Technical Fact Sheets
Poppy-Seed Mill – M95
Table-Poppy-Seed Mill – TM3
Throughput:
Funnel: up to 120 kg/h
up to 16 kg/h
Volume:
12 litre, stainless steel
Funnel: 7 litre, plastic
Dish: 5 litre, plastic
Case:
stainless steel
stainless steel
Case and Feet
–
stainless steel
Rollers:
steel, serrated and surface tempered
steel, serrated and surface tempered
Rack:
steel and aluminium crust, plastic coating
aluminium plate, plastic coatingt
Engine:
0,55 kW, 230/400 V, 50 Hz, 1,43 A overload protection by protective motor switch
0,25 kW, 230 V, 50 Hz, 2,0 A, IP 55 overload protection by thermostat
Dimensions:
L 420, W 420, H 910 mm stationary,970 mm mobile
clearance rack-height: 370 mm / 430 mm
L 320, W 350, H 600 mm
clearance height: 230 mm
Weight:
39 kg
20 kg
Connection:
EURO – standard socket (5-pin) 400 V, 16 A
Protective contact- socket 230 V, 10 A
Continuous Sound Pressure Level:
below 70 dB (A)
below 70 dB (A)
Summary
Simple operation and handling
Adjustable nip roll
High throughput quantity
Robust construction
Little maintenance effort
Steel-rollers serrated and tempered
also suitable for flaking or squeezing of corn